Barbarian Press
Books in Print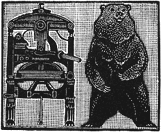 Wood engraving by Colin Paynton
(from The Chimes, 1985)
Fifty-six Ontological Studies
Poems by Jan Zwicky | Photographs by Robert Moody
May 2020
Ursus typographicus:
a Chronology of Bears
December 2017
Endgrain Editions 4
Simon Brett – An Engraver's Progress
2013/2014
Ursus typographicus:
a Chronology of Bears
December 2017
The press's 40th anniversary seemed to require some festal observance. Some of the more frequent questions asked us concern bears: Why do we have a bear as a press device? Do we really have bears around the press room? Is the bear a symbol of something? Is the bear really Crispin? – and so on. One of the most requested ephemeral pieces we ever produced was A Sloth of Bears, a broadsheet we printed in 2002 which showed all the press devices we had by that time commissioned from engravers who had illustrated our books.
Since we have had several new devices engraved since 2002, and since the 'FAQ's (as they are now inevitably called) listed above are not answered by a broadsheet, we decided to print a small book about them. Ursus typographicus opens with a 'Preface: chiefly regarding bears', about bears, our relationship with them, and theirs with the press. The body of the book prints all nineteen devices to date in chronological order, each image accompanied by a list of the titles in which the device has been used, and a note about the engraver and our work together.
As well as versions of our press device, we have sometimes had pairs of printer's marks engraved for us. These marks, in effect graphic 'signatures' of an individual printer or designer working on a book, have at various times been a feature of book design and production. The most famous modern example is probably Bruce Roger's thistle, which he drew and had reproduced, or sometimes constructed himself from typographical ornaments. In our case, we initiated the marks with A Christmas Carol, or, The Miser's Warning in 1984, simply because we enjoyed the traditions of what at the time was known as 'the private press'. Jan's features a robin singing atop a tombstone bearing her initials; Crispin's is a hand holding a hornbook which bears his initials and the word 'Felicitas'. The reasons behind these are explained in an Afterword, which also prints all six of the earlier printer's marks, two each by Edwina Ellis, Colin Paynton, and Nancy Ruth Jackson. In celebration of the 40th anniversary of the press, we have commissioned a fourth pair from Andy English, who has also created a twentieth press device, and his device and printer's marks will be displayed in their proper place on the book's colophon page.
The book thus includes a total of twenty devices and eight printer's marks, all but one of the images printed from the wood, by fourteen artists and engravers: Louis Turpin, Edwina Ellis, Colin See-Paynton, John DePol, Barry Moser, Wesley Bates, Ted Staunton, Simon Brett, Gerard Brender à Brandis, Abigail Rorer, Peter Lazarov, Andy English, Nancy Ruth Jackson, and John Lawrence. Ursus typographicus is designed in a small landscape format, bound in decorated boards, with a delightful frontispiece by Andy English featuring three cartouches showing the exterior of the press building and two interiors with two bears hard at work.

Ursus typographicus: a Chronology of Bears is published in a single state in an edition of 100 copies for sale, with 10 copies hors commerce. A few copies remain available.
The text is set in Van Dijck roman and italic with Castellar drop caps, printed in black and blue on Zerkall Book White mouldmade paper. The engravings are all printed from the wood, except for our first device by Louis Turpin, which is printed from a photo-engraved magnesium block taken from his original drawing. The book is quarter bound in grey morocco with paper over boards printed with a pattern adapted from a binding brass engraved by Alex McGuckin as a gift to the press. The book is contained in a silver silk-covered slipcase. PRICE: C$650
10 copies, designated hors commerce, are reserved for the use of the press.
The books were bound by Alanna Simenson at the Mad Hatter Bookbinding Company, Sooke, B.C.
Visit our Ordering page to order this title.