Barbarian Press
Past Publications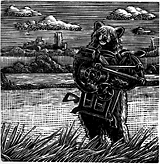 Wood engraving by Andy English
(from The Eve of St. Agnes, 2003)
Many of the titles published by Barbarian Press in the past are now out of print. Descriptions and publication details of some of those titles are available here for your perusal.
Please note that all of these books are
OUT OF PRINT
The Eve of St. Agnes
A printing of the poem by John Keats,
with wood engravings by Andy English
November 2003
"that unsurpassed example — nay, must we not rather call it unequalled? — of the pure charm of coloured and romantic narrative in English verse"
Sidney Colvin (1904)
IT IS THE RESPONSIBILITY of true readers to read new writing, for no one is less convincing than the lover of poetry who never reads anything written after 1900; but it is equally the responsibility of lovers of the new to know the canon of their literature. The rush of new poetry and new fiction, striving to be novel at all costs, sometimes blinds us to the many classics in literature which we take for granted. How many of us have re-read Jane Eyre, or "Tintern Abbey," or Twelfth Night? (How many have ever read War and Peace?) And have we read "The Eve of St. Agnes" since we were forced through it in a mood of adolescent scorn in high school, or knowing superiority in university? Re-reading the poem recently late one night, after many years, we were struck with its "pure charm of coloured and romantic narrative", and determined to publish it. We were fortunate in finding in Andy English an engraver who is as delighted with the poem as we are. Andy has furnished the text with a frontispiece, two smaller engravings within the text, a tailpiece, and (of course) a new version of our press device. His beautiful engravings reveal the vein of eroticism and sensuality in the poem.

Quarter violet cloth and decorated printed paper over boards, with spine label. Violet Bugra endpapers. Poliphilus and Blado with Goudy Text for display in violet and black on Zerkall Book White Wove.
7 by 5 inches [178 by 127mm].
36 pages. 115 copies.
C$150; approx. US$130 OUT OF PRINT