Barbarian Press
Books in Print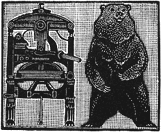 Wood engraving by Colin Paynton
(from The Chimes, 1985)
Upon Vermilion Wheels: Poems for Autumn
2011
The Play of Pericles
The text newly edited by Crispin Elsted. Illustrated with wood engravings by Simon Brett.
2011
Amours de Voyage
An epistolary novella in verse by Arthur Hugh Clough
November 2007
HOI BARBAROI
A Quarter Century at Barbarian Press
A Bibliography with Essays by Invitation & a Photo Essay by David Evans
2004
Books in Print
from Barbarian Press
On the average, we publish two to three books a year – usually one substantial book, such as an addition to the Endgrain Editions series, and one or two other smaller or less elaborate titles which will often include an illustrated classic and possibly a book of new poetry, or something with typographical or bibliographic interest. Since wood engravings are an important part of our interests as publishers, most of our books are illustrated.
Books currently in print include Amours de Voyage, the first private press edition of Arthur Hugh Clough's novella in verse first published in 1858. This little-known Victorian masterpiece is gradually becoming known as one of the treasures of 19th century English poetry. Abigail Rorer, the subject of our Endgrain Editions Two (now out of print), has provided eleven engravings, four of them full-page. This edition won a Judges' Award at the Oxford Fine Press Book Fair in November, 2007.
Please note that there are still a few copies of Hoi Barbaroi: A Quarter-century at Barbarian Press, the annotated bibliography of our work published to celebrate our first twenty-five years. The deluxe edition was out of print on publication, but some regular copies are still in stock: with essays on illustration, collecting, and design, anecdotal entries for each book the press has produced (which provide a history of the press along the way), a photographic essay on the press by award-winning photographer David Evans, and multiple tip-ins of pages from past books, this is the ideal introduction to the press, and a valuable reference tools for libraries and collections with an interest in fine printing or the private press. This book won a Judges' Award at Oxford in 2005.
Please look at the page for each individual book for further information, photographs of the book and sample pages, and information about prices.
Thank you for looking ...
A Note about Currencies
Given the present economic climate, in which currencies are continually changing in relation to one another, we have decided to give our prices only in Canadian dollars. Of course you may, as always, pay in US dollars, Pounds Sterling, Euros, or most other currencies. Please contact us for current pricing in currencies other than Canadian dollars.
A Note about becoming a Subscriber to Barbarian Press
If you are interested in our work, or in fine press editions, you should consider becoming a subscriber. It is economically exceedingly wise.
It is also very simple: Just contact us, and tell us that you wish to become a subscriber. This means that you undertake to buy ONE COPY of every book we publish – typically two to three a year. In return for this guarantee from you, we give you a 30% discount on the retail price of the book.
As an example of your savings, if you were to purchase the two most expensive books currently in print from the press – Hoi Barbaroi [regular] and Amours de Voyage at full price, they would cost you a total of $1,040. However, if you were a subscriber, you would pay only $728, a saving of $312, enough to buy another substantial book from us or from another press!
In addition to this savings, subscribers often receive small publications – pamphlets and broadsheets – as gifts.