Barbarian Press
Past Publications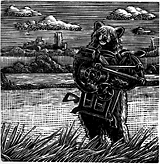 Wood engraving by Andy English
(from The Eve of St. Agnes, 2003)
Many of the titles published by Barbarian Press in the past are now out of print. Descriptions and publication details of some of those titles are available here for your perusal.
Please note that all of these books are
OUT OF PRINT
A Christmas Carol,
or The Miser's Warning
A drama in 2 acts adapted for the stage from Charles Dickens' novel by C. Z. Barnett, and first produced in 1844. Illustrated with 6 wood engravings by Edwina Ellis
November 1984
This title featured the first book illustrations by Edwina Ellis – who at the time signed herself E.N. Ellis – and who has now become an internationally recognized printmaker whose engravings are eagerly bought up by collectors in Europe and her native Australia, as well as in North America. Finally, it was the first book published by the press to use wood engravings.
We should also add that this dramatic adaptation of Dickens' best-known story has its own delights. Produced on the stage less than two months after the novel first appeared, this was one of several adaptations presented in London that season, only one of which was authorized by Dickens. This version by Barnett opened on the same night as the authorized version, but is vastly more entertaining. Full of the meat of Victorian melodrama, it is in one sense an outrageous vulgarization of the novel, but it gives a fascinating glimpse of how domestic popular theatre took authors like Dickens to their understanding. Bob Cratchit becomes a wise-cracking clown; Fred, Scrooge's nephew, loses his wealth in a shipwreck, but keeps a seasonably upper lip so as not to disturb his guests; Cratchit is mugged on his way home by a completely new character, Dark Sam, and financially reprieved by nephew Fred; and Tiny Tim – now, next to Scrooge, the symbol of the story – is relegated to a very minor position, and the famous 'God bless us every one!' doesn't even make an appearance. Scrooge, as Joel Kaplan points out in his Introduction to this edition, 'looms up as the two-dimensional boogeyman the audiences loved to hiss'. All in all, this is a delicious slice of less-than-pure Victoriana.
The historical introduction by Joel Kaplan, a scholar of Victorian theatre now head of Theatre at the University of Birmingham, is illustrated with contemporary cuts from Punch and The Illustrated London News.

Hand set in 14pt. Scotch Roman and printed in red and black on Zerkall Cream Wove. Wood engravings printed from the wood. Half scarlet buckram with printed paper over boards, printed label on spine, slipcased.
10 ½ by 7 ½ inches [267 by 191 mm]
68 pages. 350 copies.
C$120; approx. US$95 OUT OF PRINT