Barbarian Press
Past Publications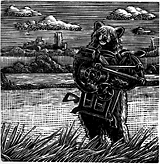 Wood engraving by Andy English
(from The Eve of St. Agnes, 2003)
Many of the titles published by Barbarian Press in the past are now out of print. Descriptions and publication details of some of those titles are available here for your perusal.
Please note that all of these books are
OUT OF PRINT
by William Shakespeare

with interpolations from George Wilkins' Painfull Adventures in a text newly edited for the press by Crispin Elsted with many wood engravings by Simon Brett
Winner, First Prize (Limited Editions) 2011 Alcuin Society Awards for Excellence in Book Design in Canada.
Judges' Award, Oxford Fine Press Book Fair, 2011
PUBLICATION DATE: 2011
Pericles is not a play most people have ever seen, and not many more have ever read it. For reasons which have always been a mystery to us, the play is rarely performed. But whatever critics and scholars have said about Pericles — and they have generally been dismissive — actors and audiences love it. With attempted murder, incest, pirates, a goddess, storms at sea, miraculous resurrection, shipwreck, love, loss, reconciliation, brothels, jousts, and palaces, it can hardly be said to be without incident or interest. Finally, it contains, in the reconciliation scene with Marina, what many consider the single most moving scene in all of Shakespeare.
Publishing Pericles, however, is not so easy a matter as simply setting the play in type and printing it. The text of the play is acknowledged to be corrupt. The only text surviving from Shakespeare's time is a quarto edition published in 1609. Both as a printing job and as an edition of a text, it is an unholy mess: verse is set as prose; words, lines, and (it seems) whole sections of scenes are omitted; speeches are attributed to the wrong characters, and so on. Moreover, it is clear from the physical evidence that the book was set in type by three different compositors, probably in two different shops, and that it was set not from the foul papers (Shakespeare's own copy) but from a "reported" copy, possibly cobbled together by a group of the actors who took parts in the performances. This 1609 quarto was followed by five further reprints closely based upon it — one later the same year, and others in 1611, 1619, 1630, and 1635. But despite this evidence of success, Pericles was not included in the first or second folios (probably because the editors knew the text to be corrupt), and only finally appeared in the second printing of the third folio in 1668, 52 years after Shakespeare's death..
Despite this neglect in the folios, it is clear that Pericles was an extremely popular play. We know this both from the number of reprints, and from contemporary report. Interestingly, it was also the first of Shakespeare's plays to be produced when the theatres re-opened after the Restoration. We don't know precisely what text might have been used for these productions, but it must have been the quarto text, possibly with alterations in the forms of corrections and necessary additions. Indeed, through the centuries, many people have attempted to "correct" or "realize" the text from various conjectural positions and with recourse to a variety of methods. Such work would seem to require a number of skills: a thorough knowledge of the development and characteristics of Shakespeare's style; theatrical experience in as many of Shakespeare's plays as possible (and particularly in Pericles); training in the analysis and interpretation of literary (and particularly Elizabethan and Jacobean) texts, and in prosody; and familiarity with the operations of a 17th century printing office, with practical experience in the handsetting and printing of type.
As it happens, Crispin spent some years as a professional actor, and has acted in all Shakespeare's plays: he has acted in three productions of Pericles and directed a fourth, and it has always been one of his favourite plays. He is a published poet, and holds a Master's degree in English. Finally, of course, he has spent twenty-five years setting type by hand, using methods not markedly dissimilar from those used in Elizabethan printing houses. For these reasons, he is able to bring these several distinct and apposite kinds of knowledge — acting and directing, textual studies, the writing and study of poetry, and typography — to bear on the problems of the play's text.
Our intention has been to publish a text which would be a pleasure to read, and would allow the glories of this unfairly neglected play to find new devotees. The book is illustrated by Simon Brett, one of the world's leading wood engravers, and more to the point, one of the most literate and sensitive illustrators working today. We began discussions with Simon in 2000, and from the preliminary sketches it was clear that this would be a book unlike any we had produced before. In Simon's words, we have tried to "stage" the play on the page, to "bring to life the silences, illustrate the dumbshows, articulate the voyages." It has been an exhilarating journey.

Just received Barbarian Press's Pericles... what a work! Jan and Crispin and all who worked on this have produced something of exquisite and lasting beauty and it is a joy and a privilege to know that there are people alive in one's time that produce such beauty and quality amongst us... Utile dulci indeed! Thank you...
Iain Benson, Subscriber, France

Again, thank you so much for this wonderful pair of books. They really are there to be read, as you say in the essays – and that's what I did last week, and am even more full of admiration for this lovely work.
Caroline Salzwedel, fine press printer and publisher at Hirundo Press, Hamburg, Germany

You and Simon have done a magnificent thing. Congratulations and thanks …
Robert Bringhurst, poet, translator, designer, and typographer, Canada

Absolutely stunning. One of the best books I've seen in recent memory.
Lynne Veatch, bookseller, United States

Het is een prachtig boek.
Dick Kouwenhoven, printer and publisher at Hemlock Press, Canada

I received my Pericles yesterday. Thank you very much for getting it to me so promptly. It is a fabulous work. I am absolutely delighted with it and will begin reading it right away. Thank you for the effort, thought and care you put into Pericles. It is a truly fine work of Art!
Toby Schwartzburg, United States

Just received my copy of Pericles. It is nothing short of magnificent. Congratulations, I know it was a long road, but what an ending!
Jeffrey Loop, printer and subscriber, United States

I have just leafed through the play, page by page, not reading just feeling, and read Simon's Essay and, especially Crispin's marvelously written Appendix, and have started Crispin's amazingly and easily erudite and witty Essay and I have got to stop and tell you that your Pericles is a stunning achievement. It will take [its] place in the ranks of the great private press books and be mentioned [with] Gill's Gospels, Ashendene's Minor Poems, Grabhorn's Leaves of Grass etc... the design, the typefaces, the printing, the illustrations, the calligraphy, the attention to the smallest details are a constant wonder!
Jean-François Vilain, subscriber, United States

I am so excited to have, just yesterday, received Pericles and after only a quick read I can see that it is going to stand as one of the most significant press books of recent years. Congratulations on a fine achievement. Simon's engravings are some of his finest. The book is a genuine illustrated book in which text and images are conceived as one. In that and many other ways it is a triumph.
Michael Taylor, bookseller, England

The securely packaged box of Pericles arrived here yesterday in fine condition. I am delighted with it. The printing of text and images is beautiful, the paper is first-class, and the bindings are excellent.
As far as the content is concerned, I feel a bit stunned by it. I shall have to make time to give it the attention it so clearly deserves. All together, it is a magnificent achievement.
John Manttan, England

Pericles – WOW – it's staggering. Miriam has been transfixed by it all morning, not a stroke of work done. All the components come together most wondrously. I'd just like to add my 2 1/ 2d worth to the pressman: the impression, inking, and printing of the wood engravings are faultless, a terrific achievement in itself.
John Randle, fine press printer and publisher at Whittington Press, England

[Pericles] rightfully earns the praise that has been bestowed upon it: it is one of the most astonishing fine press publications of recent years...
Mark Askam, bibliographer and collector, England

Pericles arrived in good order. It is an astonishing work. A classic in more than one sense of the word and as far as I am concerned in the line of the great private press books of the past.
Jaap Schipper, fine printer and publisher at the Statenhof Pers, Den Haag, Netherlands

The book arrived safely. It is absolutely wonderful. Huge congratulations.
Hilary Paynter, wood engraver, England

It has arrived and is breathtaking. Obviously I've had no time to even look right through the play volume, but it looks amazing. It has arrived in beautiful condition and longing to have time to devour. I love the binding to both volumes, and there's one wonderful page opening with text and illustrations intermingled with text in caps in different sizes.
Hugh Harrison, subscriber, England

What a magnificent production! Now you need to find Cardenio...
Anthony Baker, fine press publisher at Gruffyground Press, England

The Play of Pericles is a tall quarto, printed on Zerkall paper in several colours. The types are Poliphilus & Blado with Duensing for display, and elements of the text are printed in calligraphy specially designed and executed for this edition by Andrea Taylor. The play is illustrated with over one hundred wood engravings by Simon Brett. The book containing the play itself will be accompanied by a second volume comprising a substantial essay on the play's history and a discussion of the various theories about its composition & Shakespeare's possible collaborator, an essay by Simon Brett on illustrating the play, and notes on the text.
The book is published in two states:
STANDARD: 125 COPIES. The play in full purple morocco, with the accompanying volume of essays and notes in quarter morocco with printed paper designed by Andrea Taylor, in a chemise and slipcased.
PRICE: C$2,200.00. OUT OF PRINT
DELUXE: 12 COPIES FOR SALE, WITH 4 HORS COMMERCE. Bound by Hélène Francoeur in a déstructuration binding of alum-tawed goat and purple morocco, with stamping in gold; the supplementary volume in quarter alum-tawed goat déstructuration with paper printed with calligraphy by Andrea Taylor. Accompanied by a portfolio of a selection of signed and numbered proofs of engravings. Contained in a box of purple cloth with a vellum label stamped in gold.
PRICE: C$3,600.00. OUT OF PRINT
NOTE: A small number of sets of Simon Brett's engravings for Pericles are available and can be obtained directly from Simon. Please see this page for contact information.