Barbarian Press
Past Publications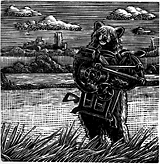 Wood engraving by Andy English
(from The Eve of St. Agnes, 2003)
Many of the titles published by Barbarian Press in the past are now out of print. Descriptions and publication details of some of those titles are available here for your perusal.
Please note that all of these books are
OUT OF PRINT
Sudden Immobility:
Selected Poems of Molly Holden
With numerous wood engravings by Andy English
Autumn 2021
For many years, Molly Holden (1927-81) has been one of our favourite poets. With Ted Hughes and Sir Geoffrey Hill, Molly Holden is one of the foremost late 20th century British poets of nature and rural life. She writes of country landscapes and of village life and history with the understanding of the heart::
Each walk, each ride reveals a new perspective
though all the land has now been generation-planned.
Hedge, tree-stump, post, duck-pond, and landscaped moat,
in only half-a-mile or mile at most are thick
with history's compost, imagination's dust,
and, most, the very exclamation of their being.
And would be true all England over – a various land.
Molly Holden's work follows to some extent in the tradition of Edward Thomas, notably in the intensity of her perceptions and the way in which her senses engage with the essence of landscape and country, flower, bird, animal, and place. Writing of Edward Thomas, Sir Andrew Motion, poet laureate from 1999 to 2009, said that he occupied 'a crucial place in the development of twentieth-century poetry' in bringing modern sensibilities to traditional subjects, and Ted Hughes called him 'The father of us all.' If that is the case, then Molly Holden must be his favoured descendant.
In 1961 Holden was diagnosed with multiple sclerosis, and over the next twenty years, as her disability increased, so her poetry deepened and clarified. What Robert Frost said of Edward Thomas, 'His poetry is so very brave, so unconsciously brave', applies at least as much to her. Rather in the way that the metaphorical structures of Emily Dickinson's poems grew out of her intense attention to the limited spaces of her house and garden, Molly Holden's work focuses on the everyday matters of her life, her view from a window, her memories of living in a wider world. Her perceptions are focused and sharpened by what she called the 'sudden immobility' which had become her daily life. In her poem 'Illness', she says
Poetic justice is imperfectly exemplified in me
who, as a child, as a girl, was persuaded that
I felt as earth feels, the furrows in my flesh,

buttercups curdling from my shoulder blades,
was what I saw. The rain would fall as pertinent on me
as on the lichens on the flint-embedded wall.

I had always a skin too few . . .
Molly Holden published five books of verse. The first two were small pamphlets, but the last three were collections in the prestigious 'Phoenix Living Poets' series of Chatto & Windus, and received fine reviews. However, excepting a handful in one or two anthologies, Molly Holden's poems have been out of print for many years. We were delighted to receive permission from her son and daughter to publish this selected edition, and they have given us a great deal of help, giving us copies of their mother's first two rare privately printed chapbooks, and providing us with eight poems for the book which have either never appeared in book form, or have remained unpublished. Sudden Immobility includes 201 poems, more than twice the number of Holden's poems ever published in one volume before.
We were further elated to discover that Molly Holden is a favourite poet of Andy English, who has illustrated four of our previous books – and therefore might be thought of as our 'house engraver'– and he eagerly agreed to provide the engravings, which bring his own 'modern sensibilities to traditional subjects.'
In consultation with Jan, Crispin has selected and arranged the poems into nine substantial thematic sections, provided a Foreword on Molly Holden's life and an Afterword on her poetry, and designed the book's typography and layouts. Each section is introduced by an engraved half-title. Sudden Immobility went into the press in April 2020. Apollonia hand-set the poems and printed them with Jan, while Jan printed Andy English's engravings. The text type is Eric Gill's Joanna – a favourite face which will be familiar from our Endgrain Editions series, but which we haven't used for a literary text since Inishbream in 2000.

I received Sudden Immobility, and all I can say is "wow"! The obvious love and passion poured into this book is incredible, and the printing and binding construction are second to none in my collection. It may sound strange, but holding this book in my hands makes me feel like I'm part of something special. I've only just begun to dive into the poems themselves, but already they have taken my breath away. I can't wait to slowly make my way through the collection. Thank you so much for introducing me to Molly Holden.
The book is a treasure trove of words and images. I'm so glad I decided to become a Barbarian, and can't wait for the next publication.
Michael Stewart, new subscriber

I had high expectations for this book, but even these were exceeded and it has bowled me over. Everything comes together and it has real character and a feeling of the countryside, whether it is the sprigged paper used on the binding or the wistful woodcuts, and all perfectly supporting the poems. You can really feel that the book has been made with much affection by all involved. Molly Holden had been completely unknown to me, but is already now amongst my favourite poets; so, thank you also for the introduction.
Richard Barnett, subscriber

What a careful, thoughtful, exuberant celebration of Holden's poetry (and of poetry itself). The curation of the poems, the supporting essays – hat fully off. The prints, wow, I couldn't stop staring at them, running my fingers over the impressions. Everything about them, and the set and design of the text, is just wonderful. And of course, the book: the paper, the binding, the smell, the feel at hand while reading, the chemise and slip (there's almost a "physical litany" to unfurling a book in that way). Sudden Immobility feels every bit the careful (and yet free-feeling) labour of love that a Holden poem itself is. Congratulations on such a beautiful book. Very inspiring on many levels too. It's very special that it can be my first Barbarian.
Erik Anderson, new subscriber

Sudden Immobility: Selected Poems of Molly Holden is published in two states, in an edition of 125 copies:
DELUXE. 72 copies, with 62 copies for sale & 10 copies hors commerce. Crown Quarto: 10½ by 7½ inches [267 by 190mm]. Hand-set in Joanna with Nicholas Parry's Tiern for display in a variety of colours and black on Zerkall White Wove, with 24 engravings printed from the wood. Bound in half morocco with a skived leather spine label and patterned paper over boards. Slipcased with an accompanying portfolio containing a suite of ten of the engravings from the book.
PRICE: C$1,250.00 OUT OF PRINT
STANDARD. 53 copies, of which 43 are for sale and 10 hors commerce. Half cloth with a printed paper label and patterned paper, slipcased.
PRICE: OUT OF PRINT