Barbarian Press
Past Publications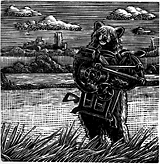 Wood engraving by Andy English
(from The Eve of St. Agnes, 2003)
Many of the titles published by Barbarian Press in the past are now out of print. Descriptions and publication details of some of those titles are available here for your perusal.
Please note that all of these books are
OUT OF PRINT
Ten Poems with One Title
by Robert Bringhurst, with images by Richard Wagener
summer 2022
Robert Bringhurst is widely known as a typographer and designer of books. The Elements of Typographic Style, originally published in 1992, has become a bible to most serious typographers, printers and designers. It has appeared in five subsequent revised editions and has been translated into more than a dozen languages. He has also published several collections of essays and talks (or 'pieces of thinking', as he calls them) on language, cultural history, poetry, the relations between humanity and the natural world, and many other subjects, all of which are profoundly interesting and endlessly stimulating. He has translated some epic poems from Haida, and the complete writings of Parmenides from classical Greek. But first, and continuing throughout all his other work, he is one of Canada's leading poets.
It is over five years since Robert published a new book of verse, although he has more than one project under way. In the summer of 2021 he wrote asking us if we would be interested in publishing an edition of a sequence of poems, Ten Poems with One Title, broadly concerned with the nature and interrelationships of language, thought, and the natural world. We are of course delighted to have such an opportunity, and work on the book began in August 2021.
Another most attractive feature of this project is that it involves a new collaboration between Robert and Richard Wagener, the American wood engraver and fine press printer whose work we celebrated in our 2019 publication Endgrain Editions 5: Richard Wagener – a Dialogue with Wood Engraving [Out of print]. They have collaborated before, in the 2003 Editions Koch publication The Fragments of Parmenides.
In Ten Poems with One Title, Richard Wagener's passionate, forceful two-colour abstract engravings, reminiscent of the work of such Abstract Expressionists as Robert Motherwell and Franz Kline, meld with Bringhurst's contemplative, elegant poems, each at once counterpointing and reflecting the character of the other. The relationship is profound and moving.

Work on the production of this book was shared with Richard Wagener, who printed his five images for the book in his studio at Mixolydian Editions in Petaluma, California before sending those sheets to us for the printing of the text. The type was hand-set here at Barbarian Press by Apollonia Elsted, after designs by Crispin Elsted, who has established the layouts for the book with Jan Elsted. The book is issued in three states:

A. Bound in half leather and slipcased with an extra folded leaf comprising one of the poems handwritten, signed, and lettered by Robert Bringhurst facing an engraving printed and signed by Richard Wagener.
PRICE: C$975.00 OUT OF PRINT

B. Bound in half leather and slipcased, with an extra folded leaf including one of the poems printed in type, signed, and numbered by Robert Bringhurst, facing an engraving printed and signed by Richard Wagener.
PRICE: C$775.00 OUT OF PRINT

The C state will be bound in half cloth and slipcased, with no extra leaf.
PRICE: C$575.00 OUT OF PRINT

Visit our Ordering page to place an order for this title.