Barbarian Press
Books in Print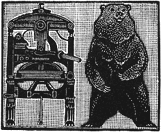 Wood engraving by Colin Paynton
(from The Chimes, 1985)
Wayzgoose Pamphlet Number One
The 'Wayzgoose' Explained, with Historical Notes on Cope's Albion, and Sherwin & Cope's Imperial, Presses
Autumn 2022
WAYZGOOSE PAMPHLETS:
Wayzgoose Pamphlet Number One
The 'Wayzgoose' Explained, with Historical Notes on Cope's Albion, and Sherwin & Cope's Imperial, Presses
Autumn 2022
This is the first of a series of Wayzgoose Pamphlets, to be issued occasionally, on subjects relating to printing and printing history. So ran the opening of the colophon of this pamphlet, issued in March 1984 for inclusion in Wayzgoose 84, published by the Public Art Gallery, Grimsby, Ontario. Notice the word 'occasionally': there has been no subsequent Wayzgoose Pamphlet in the intervening 38 years.
The 'occasion' of our 50th wedding anniversary Wayzgoose this fall seemed the perfect opportunity to resurrect this vintage idea of a series of pamphlets on printerly subjects. Because copies of the original edition are now scattered abroad through various private libraries, while others are probably sitting on the tables of some celestial waiting room, together with outdated copies of National Geographic, we have decided to restart the series with a facsimile reprint of this first – and so far only – Wayzgoose Pamphlet. Apollonia and our friend and sometime apprentice, Lea Sanchez Milde, re-set the text from the original edition and printed the pages on a Heidelberg Red Ball Press. The eight- page gathering was then sewn into wraps in time for our Wayzgoose in September. A handful of subscribers who attended our party enjoyed the opportunity to pick up their copy in person.
Wayzgoose Pamphlet Number One sets the style and tone of the series, which will be consistent in format, but will vary in length and in the typefaces used. As the title makes clear, it is an eight-page essay on our three 19th century iron flatbed hand presses, with an account of our acquiring them, and some information about the history of the Albion and Imperial presses. The text is illustrated by two cuts reproduced from William Savage's A Dictionary of the Whole Art of Printing (1841).
(We should mention that the headpiece for the series is a wood engraving done for us by Sarah Chamberlain in 1984. Many collectors will remember Sarah's Chamberlain Press,  a bright spot in fine press printing of the time, devoted principally to editions of traditional children's books such as Aesop's Fables, Mother Goose, The Three Bears, The Bremen Town Musicians, and The Pied Piper of Hamlin. We are pleased to be able to continue using Sarah's charming headpiece after such a long hiatus.)

135 copies. 8½ by 5½ inches [216 by 140mm]. 8pp. Hand-set in Kennerley in blue and black on Mohawk Letterpress, with wood engraved headpiece by Sarah Chamberlain, and two antique cuts. Sewn into printed wraps of St-Armand Canal.
PRICE: C$55.00
Visit our Ordering page to place an order for this title.